Profile Gamelan Cendana
Group of Gamelan Cendana was formed in 1992 by I Ketut Suanda, as part of conservation efforts and development of Balinese Dance and Gamelan. This studio is located at his home in the Banjar Batur, Batubulan village, Gianyar regency, Bali.

The artists of Gamelan Cendana are all from the village of Batubulan and its surrounding areas. As their efforts and enthusiasm, they have successfully performed their first staging "ngayah" at Pura Desa Batubulan, the temple of Batubulan village, with a special dance performance titled "Niwata Kawaca", choreography and gamelan composition by I Ketut Suanda.
After undergoing intensive practice and training in gamelan and dance for a period of time, I Ketut Suanda with his wife Ni Nyoman Cipta Wilyawati who also as a dancer and dance teacher, have been able to bring the Gamelan Cendana become one of the very active group in Bali.

In the period of almost two decades, the group of Gamelan Cendana has conducted numerous performances, both for customs and social purpose, as well as staging in cultural festivals, and has been awarded various Awards. Some of these include:
1992 Award from the Department of Education & Culture of Bali Province, on "Dance Parade Denpasar"
1998 Award from STSI (Institute of Arts) Denpasar, in the framework of Bachelor of Arts Participation Support Exam  2008 Award from the Bali Provincial Cultural Department, "Performances of Classical Art, Traditional and New Creation"
2009 "Partnership - New Creative Dance Performance" with Basundhari Japan, performing on Bali Arts Festival 31st
2011 "Partnership - Classic Dance Performance "Tempoe Doeloe" with Basundhari Japan performing on Bali Arts Festival 33rd
2013 Performance of Classical Legong Dance, collaborated with Balinese dance Maestro, Ni Ketut Arini S.ST on Bali Arts Festival 2013 »Article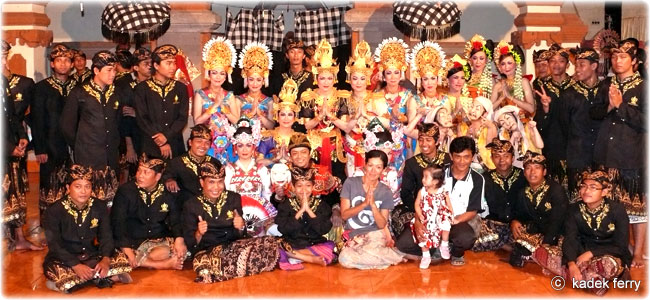 Gamelan Cendana on Bali Art Festival (PKB)
Balinese Gamelan instruments in Gamelan Cendana's studio:
Gamelan Gong Kebyar
Gamelan Semara Pegulingan
Gamelan Gong Gede
Gamelan Selonding
Gender Wayang
Studio facilities of Gamelan Cendana:
Exercise Studio (Dance & Gamelan)
Place to Rest & Relax
Accommodation, reserved for artists, of their cultural visit in Bali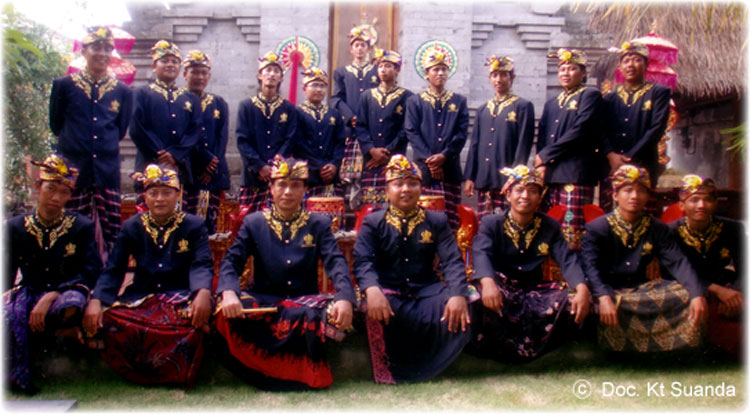 gamelan cendana
In addition, the Gamelan Cendana also has a program of Bali Cultural Learning Activities to the tourists, foreign students, and artists either from outside the region and abroad.
Kecak Dance Workshop
Workshop Majejahitan (making "Janur", a Balinese decoration made of young coconut leaves)
Location Map
News of Gamelan Cendana: